The Place To Practice Reading & Earn Rewards
Practice Reading Aloud or Join Us For Storytime In Non-Judgmental Environments
READERS
Reading Events:  you can practice reading one-on-one to our characters or hosts, either live or virtually, on-demand.
Storytelling Events: you can a join one-on-one or group storytelling event. Select or live events or on-demand virtual storytelling events.
LOCATIONS
Virtual or In-Person. Reader registrations are confirmed, so you'll know how many readers to expect for each event. Recordings can be turned into on-demand virtual events for those readers that can't attend live. For virtual events, we'll provide login access to our video platform that connects your location with readers inside our platform.
SPONSORS
Gamification Based Literacy. Our readers earn reward points for attending live and virtual events where they practice reading aloud and listen to storytelling events, both of which have been shown to improve a young person's reading skills. Contributing reward prizes creates an instant connection with our readers.
STEP 1: Sign Up - It's Free!
Sign up is free. You'll receive a confirmation email with your login credentials which provide unlimited access to our rewards based literacy platform.
STEP 2: Attend Events
Inside the platform you'll be able to select on-demand recorded events as well as scheduled live virtual events. In some cases, you'll be able to attend in-person events as well.
STEP 3: Earn Rewards
Every event has rewards points associated with it. Generally the longer the event, the more points you earn for attending. The more events you attend, the more you points you earn.
STEP 1: Sign Up - It's Free!
There's no cost for locations to join our literacy based community. You'll be connected with kids and parents that share a passion for online and community based learning.
STEP 2: Add Your Events
We focus on children's Reading and Storytelling (virtually and in-person) events. We also support Community Service and Seminars/Learning events for children and their parents.
STEP 3: Engage With Our Readers
Virtual or in-person, our platform brings the community together, centered around literacy based Reading and Storytelling events.
STEP 1: Sign Up
You have a great family centric brand, in touch with kids passionate about literacy, remote learning and community based experiences. Connect your brand with our growing community. Sign up to start connecting.
STEP 2: Give Prizes For Earned Rewards
Gamification based learning provides an opportunity to connect your brand with our readers by providing prizes based upon their achievement of point based milestones that you can establish.
STEP 3: Watch Engagement Grow
We'll promote your brand's commitment to our readers, so that the more they achieve, the more visible your connection becomes.The result is highly engaged brand awareness throughout our community.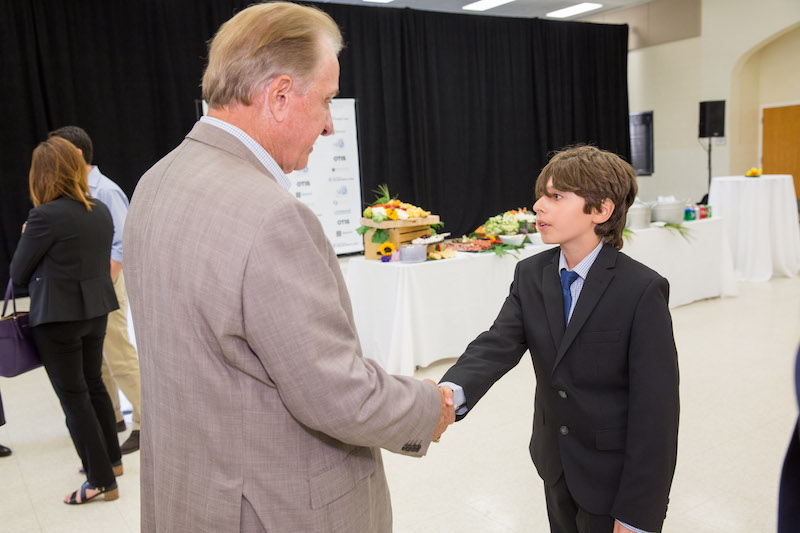 John Scarpa and Shane Herman
"we're the place to practice reading and earn rewards"
The Place To Practice Reading and Earn Rewards
I've been struggling with reading for years. Having dyslexia or any learning disability makes school much more difficult and affects your confidence. It also has a big impact upon your family. My parents spent years and thousands of dollars in therapy and testing trying to get me the help I need.
Studies show that as many as 1 in 5 people are dyslexic. One of the problems is that many of them don't know it. Many find out only after searching for help when their kids start struggling in school.
I struggled too. I wanted to do something to help kids and their families. I wanted to provide FREE help to families, regardless of where they live, their financial situation and how far along they are in their journey.
In March, 2018 Let's Get Booking was selected as one of 8 winners of The Palm Beach Philanthropy Tank. John F Scarpa,  one of the Founders of The Cellular One Network became the lead investor. My goal is to help make it much easier for others struggling with reading and learning disabilities to get the help they need.
Our Winning Presentation At 2018 Palm Beach Philanthropy Tank
Originally named 'Read With Me', Let's Get Booking was selected as the youngest of 8 winning teams in the 2018 Palm Beach Philanthropy Tank. Watch our 8 minute presentation video to see how Nestor Flores and I overcame our challenges and low self-confidence to win a $9,000 investment from John F Scarpa, one of the founders of The Cellular One Network and $1,000 from Rick Stone.
We made our presentation in front of a live audience of more than 300 people. Talk about nerves! If we can can do, so can you. You can see where our idea started and how far we've already come in a few short months.
We're the place to practice reading and earn rewards. Are you the next #ChangeMaker?
I am writing to congratulate you on your wonderful presentation at the Philanthropy Tank Finals of Let's Get Booking. Your program to work with dyslexic young men and women, to help them become better readers, will be a life changer for each of them.
Practice Reading To A Dog At Petco